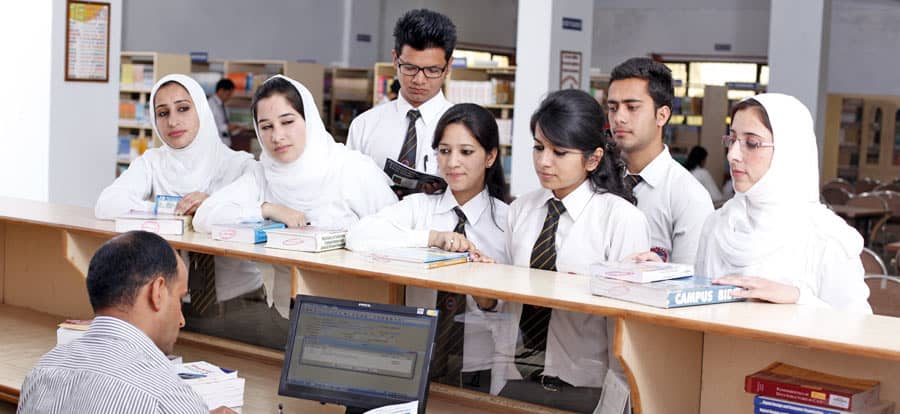 Central Library
Library is an integral part of any Institute imparting its services to the students, faculty members and other staff members. We assure you to offer the best library services. We shall not leave any stone unturned to achieve the mission of the institute. We promote each student to participate in the development process of the Library.
The JBIT library collectively supports the teaching, research and extension programmers of the institute. The Library, besides having a huge collection of books on Engineering, Science, Technology and Humanities offers Library services through its various divisions. We have attempted to make the JBIT Library a 21st century knowledge based society of tomorrow. JBIT Library shall continue to adapt to challenging new demands and provides a professional and conducive learning atmosphere for the empowerment of its users.
The Library has subscribed for 57 National/ International Journals & Magazine. JBIT Library is the member of DELNET (Developing Library Network) New Delhi. It aims to collect, store, and disseminate information besides offering computerized services to users, to coordinate efforts for suitable collection development and also reduce unnecessary duplication wherever possible.
Mission
The Library contributes to the fulfilment of the Institute mission by: Selecting, acquiring, organising, maintaining and making accessible a collection of printed and non-printed, primary and secondary materials that will support the educational, research and public service programmes of both students and the faculty.
Responding to the varying needs of the academic community by involving the faculty, the students and the administration in the development and periodic assessment of the library services and resources.
Providing library users with point-of-use instruction, personal assistance in conducting literature research and other reference services
Providing an environment conducive to the optimum use of library materials and an appropriate schedule of hours of service and professional assistance.
Participating in overall computing resources plan and providing for full library utilization of automation technology.
Contact Librarian
Mr. Kishor Bhatt Designation: LIBRARIAN Qualification: M.Sc. (Chemistry), M. Lib. Experience : 12 YEAR Contact No : 0135-2698880/09412413057 Email : This email address is being protected from spambots. You need JavaScript enabled to view it.
Periodical Section
All the newspapers, magazines, journals come under this section. JBIT library is subscribing 7 daily newspapers (3 English & 3 Hindi), 1 weekly newspaper, 16 magazines and more than 57 hard copy journals of various disciplines. These periodicals are available to you for easy reference during all the working hours within the library. In special circumstances, these can be issued to you with prior permission of Chairman-Library Committee, Director. But all such requests should be strongly recommended by the subject teacher, faculty advisor or faculty coordinator. You are also entitled to refer the CD's of different magazines, which in special circumstances can be issued by following the same procedure.
Sl. No.

Name of Journals

Subscription Type

1

PRAMANA- Journal Of Physics

Hard Copy

2

Resonance-Journals of Science

Hard Copy

3

Bulletin of Material Science

Hard Copy

4

Industrial Products Finder

Hard Copy

5

DESIDOC Journal of Library & Information Science

Hard Copy

6

Proceedings- Mathematical Science

Hard Copy

7

Journal of Energy Heat and Mass

Hard Copy

8

Express Computer

Hard Copy

9

Modern Machine Tools

Hard Copy

10

Civil Engineering & Construction Review

Hard Copy

11

New Building Materials & Construction world

Hard Copy

12

Indian Foundry Journal

Hard Copy

13

Power line

Hard Copy

14

Auto India

Hard Copy

15

Electrical India

Hard Copy

16

MGS Architecture

Hard Copy

17

Tele.net

Hard Copy

18

Automotive Products Finder

Hard Copy

19

The Indian Concrete Journal

Hard Copy

20

The IUP journal of Mechanical Engineering

Hard Copy

21

The IUP Journal of Electrical & Electronics Engineering

Hard Copy

22

The IUP Journal of Computer Science

Hard Copy

23

The IUP Journal of Structural Engineering

Hard Copy

24

Journal of Indian Road Congress

Hard Copy

25

Indian Highways

Hard Copy

26

Highway Research Journal

Hard Copy

27

Highway Research Record

Hard Copy

28

IETE Journal of Research

Hard Copy

29

IETE Technical Review

Hard Copy

30

IETE Journal of Education

Hard Copy

31

Indian Journal of Image Processing &Techniques

Hard Copy

32

Indian Journal of Signal & Image Processing

Hard Copy

33

Journal of wireless Communication & Simulation

Hard Copy

34

Indian Journal of advances in computer science tech.

Hard Copy

35

Indian Journal of Information Security & Computer

Hard Copy

36

Indian Journal of Modern software Engineering

Hard Copy

37

Indian Journal of Computer Graphics & Techniques

Hard Copy

38

Indian Journal of Network & Application

Hard Copy

39

Indian Journal of Mechanical Engineering & Research

Hard Copy

40

Indian Journal of Mechanics & Solid

Hard Copy

41

Indian Journal of Mechanics & thermodynamics

Hard Copy

42

Indian Journal of Material in civil Engineering

Hard Copy

43

Indian Journal of Machine Tools & maintenance Engineering

Hard Copy

44

Indian Journal of Mechotronics

Hard Copy

45

Indian Journal of Construction Engineering & Technology

Hard Copy

46

Indian Journal of Advances in Electrical Engineering

Hard Copy

47

Indian Journal of Embedded Systems in Engineering research

Hard Copy

48

Current development in Electrical Engineering

Hard Copy

49

Indian Journal of Chemistry Section - B

Hard Copy

50

Indian Journal of Engineering &Material Sciences

Hard Copy

51

Indian Journal of Radio & Space Physics

Hard Copy

52

CSIR News

Hard Copy

53

CII Communiqué

54

Journal of Modern Manufacturing & Technology

Hard Copy

55

Journal of Software Engineering & Technology

Hard Copy

56

Journal of Neural Computing System

Hard Copy

57

Science Reporter

Hard Copy

58

Electronics For You

Hard Copy

59

India Today(English)

Hard Copy

60

India Today(Hindi)

Hard Copy

61

Frontline

Hard Copy

62

Reader's Digest

Hard Copy

63

Digit

Hard Copy

64

Outlook

Hard Copy

65

Chronicle

Hard Copy

66

Open Source for You

Hard Copy

67

Careers 360

Hard Copy

68

Partiyogita Darpan(Hindi)

Hard Copy

69

Samanya Gyan Darpan

Hard Copy

70

Amar Ujala (Safalta )

Hard Copy

71

Sport Star

Hard Copy

72

Voice & Data

Hard Copy
LIST OF CD'S AVALIABLE IN THE LIBRARY
| | | | | | | |
| --- | --- | --- | --- | --- | --- | --- |
| S.N. | ACC.N. (FROM TO…) | TITLE | AUTHOR | PUB. | N.OF CD'S AVALIABLE | REMARK |
| 1 | 02 To 04 | C++ Programming Today | Johnston, Barbara | Pearson Edu. | 03 | |
| 2 | 011 | Digital Design | Mano, M. Morris | Pearson Edu. | 01 | |
| 3 | 043 | Design of Machine Elements | Spotts, M. F. | Pearson Edu. | 01 | |
| 4 | 044 To 045 | Introduction to Finite Elements in Engineering | Chandrupatla, Tirupathi R. | Pearson Edu. | 02 | |
| 5 | 048 | Electrical Engineering : Principles and Applications | Hambley , Allan R. | Pearson Edu. | 02 | Two Vol. |
| 6 | 107 To 109 & 111 To 112 & 114 To 116 | Digital Design | Mano, M. Morris | Pearson Edu. | 08 | |
| 7 | 202 To 203 | Electronics Devices and Circuit Theory. | Boylestad , Robert L. | Pearson Edu. | 02 | |
| 8 | 250 | Design of Machine Elements | Spotts, M. F. | Pearson Edu. | 01 | |
| 9 | 261 | Electrical Engineering : Principles and Applications | Hambley , Allan R. | Pearson Edu. | 01 | |
| 10 | 339 To 342 | Materials Science and Engineering | Balasubramaniam, R. | Wiley | 04 | |
| 11 | 394 | Macromedia Flash 8 : Bible | Reinhardt, Robert ; Dowd ,S. | Wiley | 01 | |
| 12 | 399 | Object -Oriented Programming in C++ | Shukla ,R. k. | Wiley | 01 | |
| 13 | 405 | CCNA : Network Associate | Lammle ,Todd. | Wiley | 01 | |
| 14 | 525 | Physical Chemistry | Bhal, Arun | S. Chand | 01 | |
| 15 | 658 To 659 | Electrical Technology | Theraja, B. L. | S. Chand | 01 | |
| 16 | 726 To 727 | Engineering Electromagnetics | Hayt, W.H. | McGraw-Hill | 02 | |
| 17 | 951 To 954 | Optical Fiber Communication | Keiser, Gerd | McGraw-Hill | 04 | |
| 18 | 1038 To 1043 | Numerical Analysis | Burden, R. L. | Thomson | 06 | |
| 19 | 1054 | Java Programming and Object- Oriented | Johnson, R. A. | Thomson | 01 | |
| 20 | 1056 To 1057 | Linear Algebra | Jain, S. K. | Thomson | 02 | |
| 21 | 1062 To 1064 | Guide to Networking Essentials | Tomsho, Greg | Thomson | 03 | |
| 22 | 1068 | Mechanics of Materials | Gere, James, M. | Cengage | 01 | |
| 23 | 1071 | Introduction to Probability and Statistics | Mendenhall, W. | Thomson | 01 | |
| 24 | 1077 | Digital Electronics | Bignell, J. W. | Thomson | 01 | |
| 25 | 1080 | 8051 Microcontroller | Ayala, Kenneth | Thomson | 01 | |
| 26 | 1251 To 1260 | Computer Fundamental | Sinha, P. K. | BPB Pub. | 10 | |
| 27 | 1325 | Finite Elements in Engineering | Chandrupatla, T. R. | PHI | 01 | |
| 28 | 1356 To 1357 | Neural Network, Fuzzy Logic, and Genetic Algorithms'. | Rajasekaran, S. | PHI | 02 | |
| 29 | 1423 | Digital Communication and Signal Processing | Vasudevan, K. | Universities Press | 01 | |
| 30 | 1446 To 1447 | Computer Numerical Control | Seames, W. S. | Cengage | 02 | |
| 31 | 1592 To 1600 | Electronic Devices and Circuits Theory | Boylestad, R. L. | Pearson Edu. | 09 | |
| 32 | 1868 To 1869 | Oracle Log PL/ SQL | Gupta, Pranab, K. Das | Khanna Pub. | 02 | |
| 33 | 1870 To 1871 | Computer Based Numerical and Statistical technique | Singh, S. B. | Khanna Pub. | 02 | |
| 34 | 1892 To 1896 | Expert Data Structures with C | Patel , R. B. | Khanna Pub. | 05 | |
| 35 | 1900 | Visual Basic 6 | Bhatia, Mandeep, S. | Khanna Pub. | 01 | |
| 36 | 1909 | Expert Data Structures With C++ | Patel, R. B. | Khanna Pub | 01 | |
| 37 | 1915 To 1916 | ASP. Net 2.0 : Black Book | Dreamtech, Software, Team | Dream Tech. | 02 | |
| 38 | 1919 To 1920 | Java Server programming J2EEI4 : Black Book | Dreamtech, Software ,Team | Dream Tech | 02 | |
| 39 | 1924 | SQL and PL / SQL For Oracle Log : Black Book | Deshpande, P. S. | Dream Tech | 01 | |
| 40 | 1925 | Java 6 Programming : Black Book | Kogent, Solutions | Dream Tech | 01 | |
| 41 | 1927 | C# 2008Programming. Net.3.5 : Black Book | Kogent, Solution | Dream Tech | 01 | |
| 42 | 2101 & 2103 | Digital Electronics : Principles and Applications | Tokheim, R. L. | TMH | 02 | |
| 43 | 2201 To 2204 | Engineering Circuits Analysis | Hayt, W. H. | TMH | 04 | |
| 44 | 2232 To 2233 | V H D L : Programming by Example | Perry, Douglas, L. | TMH | 02 | |
| 45 | 2283 To2285 | Engineering Electromagnetic | Hayt, M. H. | TMH | 03 | |
| 46 | 2347 To2350 | Local Area Networks | Keiser, E.Gerd | TMH | 04 | |
| 47 | 2472 | Data base Management Systems | Post, Gerald, V. | TMH | 01 | |
| 48 | 2501 To 2503 | Programming In Visual Basic 6.0 | Bradley, J. C. | TMH | 03 | |
| 49 | 2911 To 2912 | C ++ : Programming today | Johnston, Barbara. | Pearson Edu. | 02 | |
| 50 | 2941 To 2942 | Advanced English Grammar | Hewings, Martin | Cambridge | 02 | |
| 51 | 2968 To 2969 | Cambridge Grammar Of English | Carter, Ronald | Cambridge | 02 | |
| 52 | 2970 | Better English Pronunciation | Connor O, J. D. | Cambridge | 02 | Two Vol. |
| 53 | 2978 | Telephoning In English | Naterop, Jean, B. | Cambridge | 02 | Two Vol. |
| 54 | 2982 | Study : Speaking | Anderson, Kenneth | Cambridge | 01 | |
| 55 | 2985 To 2987 | English For Science and Engineering | Willams, Ivor | Cengage | 03 | |
| 56 | 3024 | Communication Skills | Dutt, P. Kiranmai | Foundation | 01 | |
| 57 | 3026 | Writing Fast Programs : Practical Guide | Riley, John | Viva Books | 01 | |
| 58 | 3027 | Real English Grammar | Lott, Hester | Viva Books | 01 | |
| 59 | 3061 To 3065 | Software Engineering | Aggarwal, K. K. | New Age | 05 | |
| 60 | 3411 To 3412 | Object- Oriented Programming In C++ | Shukla, Rajesh, K. | Wiley | 02 | |
| 61 | 3426 | Introduction To Information Technology | Turban, Efraim | Wiley | 01 | |
| 62 | 3454 To 3457 | Materials Science and Engineering : Introduction | Callister, William, D. | Wiley | 04 | |
| 63 | 3474 | Mechatronics : Integrated Mechanical Electronic Systems | Ramachandran, K. P. | Wiley | 01 | |
| 64 | 3481 To 3484 | Fundamental Of Thermodynamics | Sonntag, R. E. | Wiley | 04 | |
| 65 | 3507 To 3509 | Automatic Control System | Kuo, Benjamin, C. | Wiley | 03 | |
| 66 | 3530 To 3532 | Fiber- Optic Communication System | Agrawal, Govind , P. | Wiley | 03 | |
| 67 | 3551 To 3553 | Control System Engineering | Nise, Norman, S. | Wiley | 03 | |
| 68 | 3576 To 3577 | Auto CAD : 2008 For Engineers and Designers | Tickoo, Sham | Dreamtech | 02 | |
| 69 | 3578 To 3580 | Auto CAD : 2009 For Engineers and Designers | Tickoo, Sham | Dreamtech | 03 | |
| 70 | 3581 | Java 2 Programming : Black Book | Holzner, Steven | Dreamtech | 01 | |
| 71 | 3582 | Java6 Programming : Black Book | Holzner, Steven | Dreamtech | 01 | |
| 72 | 3586 To 3587 | C and Data Structures | Deshpande, P. S. | Dreamtech | 02 | |
| 73 | 3591 | SQL and PL / SQL For Oracle10g : Black Book | Deshpande, P. S. | Dreamtech | 01 | |
| 74 | 3592 | PERL : Black Book | Holzner, Steven | Dreamtech | 01 | |
| 75 | 3633 | C : How To Program | Deitel, P. J | PHI | 01 | |
| 76 | 3890 | Using The MCS-51 : Microcontroller | Huang, Han- Way | Oxford | 01 | |
| 77 | 3985 To 3986 | Spoken English | Sasikumar, V. | TMH | 02 | |
| 78 | 3992 | Basic Communication Skills | Dutt, P. Kiranmai | Foundation | 01 | |
| 79 | 3997 | Ship Or Sheep | Baker, Ann | Cambridge | 04 | Four Vol. |
| 80 | 3998 | Tree Or Three | Baker, Ann | Cambridge | 03 | Three Vol. |
| 81 | 3999 | English Pronunciation In Use | Hancock, Mark | Cambridge | 05 | Five Vol. |
| 82 | 4000 | English Pronunciation In Use : Advance | Hewing, Martin | Cambridge | 06 | Six Vol. |
| 83 | 4063 | Guide To Managing and Maintaining Your P. C. | Andrews, Jean | Thomson | 01 | |
| 84 | 4074 To 4075 | Java Programming and Object- Oriented Application Development | Johnson, Richard, A. | Thomson | 02 | |
| 85 | 4076 | Networking : Guide To Operating System | Palmer, Michael | Thomson | 01 | |
| 86 | 4078 | 8051 Microcontroller | Ayala, Kenneth | Thomson | 01 | |
| 87 | 4083 To 4085 | Visual Basic 2005 By Practice | Mostafavi, Mike | Thomson | 03 | |
| 88 | 4086 To 4090 | Expert Systems | Giarratano, Joseph | Thomson | 05 | |
| 89 | 4093 | 8086 Microprocessor : Programming and Interfacing The P. C | Ayala, Kenneth, J. | Cengage | 01 | |
| 90 | 4097 To 4104 | Oracle Log : SQL | Casteel, Joan | Thomson | 08 | |
| 91 | 4106 | System Analysis and Design | Shelly, Gary, B. | Thomson | 01 | |
| 92 | 4117 | Microprocessor Family : Hardware and Software Principle and Application | Antonakos, J. L. | Thomson | 01 | |
| 93 | 4123 | Guide to Networking Essentials | Tomsho, Greg | Thomson | 01 | |
| 94 | 4129 | Text Mining Application Programming | Konchady, Manu | Cengage | 01 | |
| 95 | 4132 | Computer Numerical Control : Concept and Programming | Seames, Warren, S. | Cengage | 01 | |
| 96 | 4142 | Java Programming Advanced Topics | Wigglesworth, Joe | Thomson | 01 | |
| 97 | 4147 | Introduction To Six Sigma | Evans, James, R. | Thomson | 01 | |
| 98 | 4162 | Doing Data Analysis | Carver, Robert, H. | Thomson | 01 | |
| 99 | 4167 To 4169 | Information Technology : Project Management | Schwalbe, Kathy | Cengage | 06 | Multi Vol. |
| 100 | 4190 | Programming Language Pragmatics | Scott, Michael, L. | Elsevier | 01 | |
| 101 | 4201 To 4202 | Visual Basic 6 : Complete Reference | Jerke, Noel | TMH | 02 | |
| 102 | 4204 | Oracle Database 10g : Complete Reference | Loney, Kevin | TMH | 01 | |
| 103 | 4215 | Operation Research : Introduction | Taha, Hamdy, A. | Pearson | 01 | |
| 104 | 4243 To 4244 | Visual Basic : Projects | Dasgupta, Soma | BPB Pub. | 02 | |
| 105 | 4249 To 4250 | Mastering Visual Basic 6 | Petroutsas, Evangelos | BPB Pub. | 02 | |
| 106 | 4252 | Java2 : Programming Black Book | Holzner, Steven | Dreamtech | 01 | |
| 107 | 4257 | P C Upgrade and Repair : Bible | Press, Barry | Dreamtech | 01 | |
| 108 | 4262 | Project 2007 : Bible | Marmel, Elaine | Wiley | 01 | |
| 109 | 4263 | Premier : Pro : CS3 | Droblas, Adele | Wiley | 01 | |
| 110 | 4271 | Data Warehouse : Lifecycle Toolkit | Kimball, Ralph | Wiley | 01 | |
| 111 | 4275 | Principle Of Soft Computing | Sivanandam, S. N. | Wiley | 01 | |
| 112 | 4279 | Mastering Maya 8.5 | Gibbs, Kundert, J. | Wiley | 01 | |
| 113 | 4285 | Visual Basic Project 2005 | Willis, Thearon | Wiley | 01 | |
| 114 | 4382 | HTML / DHTML, JavaScript, Perl | Bayross, Ivan | BPB Pub. | 01 | |
| 115 | 4389 | Data Structures Through C | Kanetkar, Yashwant | BPB Pub. | 01 | |
| 116 | 4390 To 4392 | Data Structures Through C | Kanetkar, Yashwant | BPB Pub. | 03 | |
| 117 | 4413 | Microsoft Office Access 2007 | Andersen, Virginia | TMH | 01 | |
| 118 | 4430 | Beginners Guide To C# 2005 With. Net 3.0 | Sahoo, Gagan, B. | Khanna Pub. | 01 | |
| 119 | 4431 To 4434 | C++ Program Design | Baluja, G. S. | Khanna Pub. | 04 | |
| 120 | 4435 To 4437 | Expert Data Structure With C++ | Patel, R. B. | Khanna Pub. | 03 | |
| 121 | 4456 | Computer Based Numerical and Statistical Techniques | Kumar, Santosh | Pearson | 02 | Two Vol. |
| 122 | 4484 | Encyclopedia Of Networking | Tulloch, Mitch | PHI | 01 | |
| 123 | 4492 | Oracle Developer 2000 | Gupta, Pranab, K. Das | PHI | 01 | |
| 124 | 4493 | C ++ : Programming today | Johnston, Barbara. | PHI | 02 | Two Vol. |
| 125 | 4526 To 4529 | C ++ : Programming Today | Johnston, Barbara. | Pearson | 04 | |
| 126 | 4534 | Operating System : Design and Implementation | Tanenbaum, A. S. | Pearson | 01 | |
| 127 | 4540 | Java Certification | Mughal, Khalid, A. | Pearson | 01 | |
| 128 | 4557 | CCENT / CCNA, ICND | Wendell, Odom, Cisco | Pearson | 01 | |
| 129 | 4586 | SQL Server 2005 : Black Book | Dalton, Patrick | Dreamtech | 01 | |
| 130 | 4593 | Network Security For Windows , Unix | Chirillo, John | Dreamtech | 01 | |
| 131 | 4598 | ASP. Net 2.0 : Black Book | Dreamtech, Software, Team | Dreamtech | 01 | |
| 132 | 4621 | XML and Java : Developing | Maruyama, HIroshi | Pearson | 01 | |
| 133 | 4668 | Programming In Visual Basic 6.0 | Bradley, Julia, Case | TMH | 01 | |
| 134 | 4669 | Management Information System | Laudon, Kenneth, C. | Pearson | 01 | |
| 135 | 4680 | Learning Visual Basic. Net Through Application | Crooks, Clayton, E. | Firewall | 01 | |
| 136 | 4716 | Practical Windows Administration Scripting | Malik, Bobby | Cengage | 01 | |
| 137 | 4728 | Assembly Language and Computer Architecture Using C++ and Java | Reis, Anthony, J.D. | Cengage | 01 | |
| 138 | 4732 To 4733 | Visual Design : Digital Approach | Hashimoto, Alan | Cengage | 02 | |
| 139 | 4738 To 4738 | Java Programming | Malik , D. S. | Cengage | 02 | |
| 140 | 4757 | Hacking Web Service | Shah, Shreeraj | Cengage | 01 | |
| 141 | 4814 | Java For Beginners | Farrell, Joyee | Cengage | 01 | |
| 142 | 4815 To 4816 | Java For Beginners | Farrell, Joyee | Cengage | 02 | |
| 143 | 4823 To 4824 | Operation Research : Application | Winston, Wayhe | Cengage | 02 | |
| 144 | 4835 | Introduction TO UNIX / LINUX | Diaz, Christopher | Cengage | 01 | |
| 145 | 4841 To 4842 | Oracle Log : Database Administration | Rajan, Claire | Cengage | 02 | |
| 146 | 4864 To 4865 | A+ Guide To Managing and Maintaining Your P C | Andrews, Jean | Cengage | 02 | |
| 147 | 4870 To 4871 | Applied Simulation Modeling | Seila, Andrew, F | Cengage | 02 | |
| 148 | 4906 4915 | Computer Fundamental | Sinha, P. K. | Cengage | 10 | |
| 149 | 4916 | Embedded C Programming and The Atmel AVR | Barnett, Richard | Cengage | 01 | |
| 150 | 4933 To 4934 | Adobe Photoshop : CS3 | Shelly, Gary, B. | Cengage | 02 | |
| 151 | 4947 to 4948 | PIC Microcontroller : Software and Hardware | Huang, Han - Way | Cengage | 02 | |
| 152 | 4953 To 4954 | SQL Server 2005 For Developers | Ericsson, Robert | Cengage | 02 | |
| 153 | 4966 | Programming Language Pragmatics | Scott, Michael, L. | Cengage | 01 | |
| 154 | 4978 | PC Upgrade and Repair : Block Book | Gilster, Ron | Dreamtech | 01 | |
| 155 | 4984 | Java Script : Bible | Goodman, Danny | Wiley | 01 | |
| 156 | 4994 | Dreamweaver Cs3 : Bible | Lowery, Joseph | Wiley | 01 | |
| 157 | 5000 | Fedora 9 and Red Hot Enterprise : Bible | Negus, Christopher | Wiley | 01 | |
| 158 | 5206 To 5207 | Listening & Speaking: Vol- I | Sashikumar, V. | Foundation | 02 | |
| 159 | 5208 To 5209 | Listening & Speaking: Vol-II | Sashikumar, V. | Foundation | 02 | |
| 160 | 5212 To 5213 | Telephoning In English | Naterop, B. Jean. | Cambridge | 04 | Two Vol. Each |
| 161 | 5214 To 5215 | Speaking Effectively: Developing Speaking Skills for Business English | Comfort, Jeremy. | Cambridge | 02 | |
| 162 | 5226 To 5227 | English Pronunciation in Use | Marks, Jonathan. | Cambridge | 11 | Multi Vol. |
| 163 | 5452 To 5453 | Computer Organization And Design | Patterson, David, A. | Elsevier | 11 | Muti Vol. |
| 164 | 5699 To 5700 | Engineering Electromagnetics | Hayt, W.H. | TMH | 02 | |
| 165 | 5871 | Expert Data Structure With C++ | Patel, R. B. | Khanna | 01 | |
| 166 | 5900 | Visual Basic Projects | Sahoo, Gagan | Khanna | 01 | |
| 167 | 7456 To 7460 | Operation Management | Heizer, Jay | Pearson | 05 | |
| 168 | 7752 To 7775 | Microprocessor Architecture Program & Application with the 8085 | Gaonkar, Ramesh. S. | Penram Int. | 24 | |
4. Special Feature Highly qualified, efficient Library staff ensures the best possible information services. Standard textbooks and books by well-known authors are stocked, and every effort is made to obtain all titles recommended by the faculty. Multiple copies of popular books are bought to make them available to as many students as possible. A copier facility is also provided for the benefit of those who access the library. A closed circuit television (CCTV) facility monitors activities across the library area. All library facilities, supported by expert assistance, are available for students and staff from 9:00 AM. to 09:00 PM every day.
Membership
All students, faculty members and employees of the institute are eligible for the membership of the library.
Library Automation
The Libsys software is used for Library Automation.
Bar-coding System
All the books are bar-coded in the library & barcode laser scanners are used in the circulation counter for book transaction.
Network Connections
Internet connection through fiber optic. Internet
Library facility/ Service
Digital Library Facility
Library of the institute has a huge collection of textbooks, reference books, periodicals, reports, standards, dissertations etc. Besides this separate digital library, section exists having 10 computers, connected through LAN with the facility of working hour's internet service. This section has also the facility to access multimedia-based Learning resources And E- journals. All are server based Learning resource covers many core subjects taught as per university curriculum for B. Tech and subjects useful for major projects. This software also includes testing skill for learning. There are 10 PCs available for students in the digital library for accessing the on-line resources- working hours Internet/ Intranet connected library through WI-FI technology. Digital Library here User can be accessed subscribing E-journals viz. DELNET Consortium IESTC in the digital library.
Books Search facility
JBIT Library is equipped with online search units. All PCs have been installed inside the Library for this purpose. By using on line search, you can quickly find out the location and availability of a particular book in the Library. You can search a book online in many ways by selecting different fields in the LIBSYS Software.
Online searching procedure is very simple and whole procedure is written and pasted, on the notice board in Library. Still if you face any difficulty in the on line search procedure, feel free to contact any Library staff member for help. The following URL is used for searching the books.

http://172.4.16.6:8080/jopacv06

DELNET Facility

The Central Library is also a member of DELNET (Developing Library Network) DELNET has emerged as a major Resource sharing library network in south Asia with more than 4216 Library as its member. The main Objectives of DELNET are to promote resource sharing among the Member – Libraries by the Collecting, storing and disseminating information and by offering networked service to user. DELNET offers access to more than 80lakh record of books, periodical, article, Video-recording, these.

Xerox Facility

JBIT Library provides you this facility for xeroxing certain articles/pages from those magazines, textbooks and journals that are not issued to the students in ordinary case. You can avail the Xeroxing facility in JBIT Library at a reasonable charges. From this session onwards, you are required to fill up the requisition slip meant for this purpose indicating the title of book/Author, name of article and page number i.e. from this page to that page. After filling up the requisition slip, you have to deposit it along with the Xerox charges to Library Staff. After one or two hours you can collect the Xeroxed article from Xerox facility in charge.

Book Reservation facilities

Library is also facilitating you to reserve any book, which is already issued to someone. The on line searching procedure is very simple and whole procedure is written and pasted, on the notice board in the Library. Still if you face any difficulty in following the on line reservation procedure, feel free to contact any Library staff member for help.

Book bank facility

Book bank facility is available for the first Year students.

Library Evening Facility

Library is open for Reading purpose from 09:00 AM to 09:00PM. No Circulation will be done after 04:30PM

Inter Library Loan Facility

Under the Inter Library Loan Scheme material not available in our library is procured from other libraries with the help of DELNET.(Developing Library Network ).

Rules & Regulation of Library

Proper College Uniform and Identity Card is mandatory for Entry in the Library.
Reader should maintain Silence in the Library and should not disturb to other.
The books shall be issued to Student for 15days.
The book bank shall be issued to student for Entire Semester.
Reference book, rare books shall not be issued, May referred in the Library only.
Do not take out many books from Shelves. Take out only required books from the Shelves for your reading.
Bring maximum one note book at a time inside the Library. Leave the rest of Your Belongings at the Property Counter outside the Library
.
Enter the Particulars of the books in the daily issue register at the exit of Library.
The Janitor/ Library Attendant at the entrance is Authorized to examine everything that passes into /from the Library.
Do not Carry Eatables and Drinkables inside the Library.
Refrain your shelf from indulging in any destructive activity that results in damaging the library Property i. e.Books, Furniture etc.
Bags, Big handbags, Raincoat, Jerkin and Casual wears are strictly prohibited inside the library.
Library users are strictly prohibited from taking the borrowed and stamped books again inside the library.
If the due date falls on a holiday for the Library, the next working day will be taken as the due date.
If any book is lost, the responsible person shall replace it with a new copy or pay double cost of the recent price and handling charges or as may be decided by the librarian.
Any kind of marking, underlining, clipping of books is absolutely forbidden. Readers shall be held responsible for any damage done to the book belonging to the Library and shall be required to replace such book or pay the value thereof.