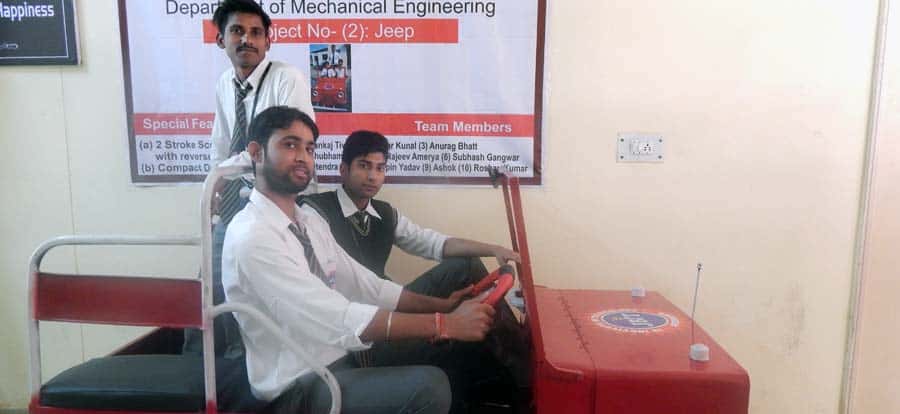 Objectives
The Research Promotion Scheme of JB INSTITUTE OF TECHNOLOGY, Dehradun aims to nurture research culture in the institute by promoting research in newly emerging and challenging areas of science and engineering. It encourages the Undergraduate candidates to undertake the research in newly emerging frontier areas of science and engineering including multidisciplinary fields. This enhances the general research capability of budding technocrats by way of participating in conferences, seminars, workshops, project competition, etc.
Activities
R&D fund allocation & creation of R&D facilities.
R & D promotion activities of Staff and Students such participating in conferences, seminars, workshops, etc.
To promote & keeping track of research publications in conferences and journals.
Encouraging research proposals for external funding agencies and filing of patents.
Designing norms for promoting research & incentives for motivation
R&D Resources
Qualified faculties
Laboratories with research oriented facilities
Library with more than 10000 books, multimedia, & journals (Printed and Online)
R&D cell promotes & motivates research amongst UG students and faculties.
R & D Initiatives - Initiatives for Under Graduate Students
Students are encouraged to participate in workshops, seminars, paper presentation and project competitions.
They are motivated to undertake industry based projects.
Registration fees and one way fare for National conference/workshop/seminar is provided to students.
For SC/ST/OBC students, registration fees and two way fare is provided.
Winner Students are provided with 100% financial assistance as regards registration fees and traveling expenses.
Few students have been provided fund for participation even in International events.
Initiatives for Faculties
Financial assistance in terms of registration fees, TA/DA, etc for participation in National & International conferences (India and Abroad), workshops, seminars etc.
Publication charges given for publishing any number of papers in journals.
Management extends full supports for the additional fund required for the completion of the externally funded projects.
Encouraged to file Patents and financial assistance is provided for the same.
Departmental R&D budget supports research activities in the department.