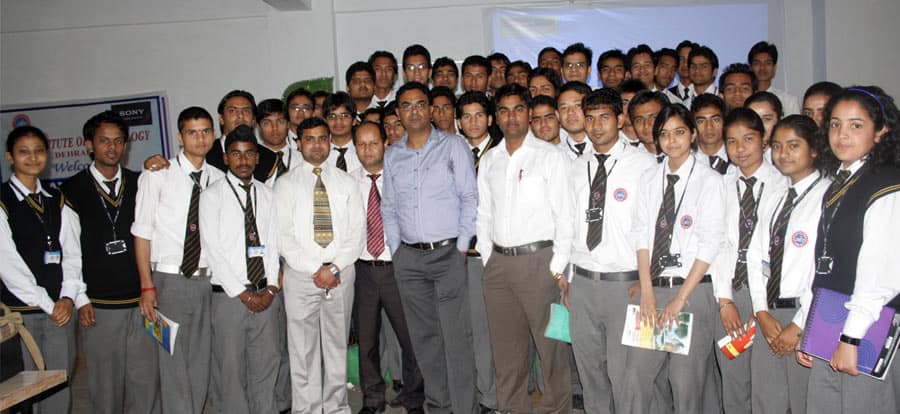 In today's environment, hoarding knowledge ultimately erodes your power. If you know something very important, the way to get power is by actually sharing it. A Lecture is an occasion when you numb one end to benefit the other.
At JBIT, emphasis is given on not only making you academically brilliant, but true leaders and team players, thus preparing you for the real life corporate world. This is done by inviting people from industries and top institutions to provide valuable information to our students. We Invite Eminent personalities form various Industries and Institutions to lend valuable Information from their Experiences to our students. Guest Lecture is a way of enriching our students with the latest updates of the Industries and Technicalities. The Students are bestowed with knowledge about Industry needs, latest technical updates, Avenues for Higher studies etc..
Ketan Bhagat, an NRI and brother of the famous author Chetan Bhagat, is an upcoming writer who paid a humble visit to JBIT on account of promoting his debut novel, "Complete/Convenient". He made a small inspirational presentation on the secrets of success in career which included success stories of famous personalities such as Tiger Woods.
Some of the eminent Speakers are-
Mr. Anish Juneja Asst. Manager, Sony India Pvt. Ltd
Dr. Shailendra Mishra Professor, EC,Dwarahat
Dr. S.C.Sharma Professor, IIT, Roorkee
Dr. V.K Sharma Professor, IIT, Roorkee
M. Arshad MD, CAD Arena
Prof. P.K.Garg Civil Engg. Deptt.IIT- Roorkee (Lec. delivered in Department of Civil engg. JBIT.)
Mr. Ketan Bhagat Writer
Mr. Zubin Mehta Assistant General Manager, SEBI Govt. of India.
Mr. Ajay Thakur Team Lead, Zensar Technologies Pune
Mr. Virendra Chauhan CEO, Evon Technologies Dehradun
Mr.Sudhir Joshi,Expert- Net Techologies, HCL
Mr.Rohit Nanda, Vice-President, IBM Business Partner
Mr.Amit Sharma, Manager HR,Dixon industries Ltd
Mr. Praveen Jain, Chairman, Birla Aircon
Mr.Vijay Kumar,Zonal Head, Ambuja Cement Ltd.
Mr.Piyush Upadhyay,Head Trainer, Sofcon India Pvt. Ltd.