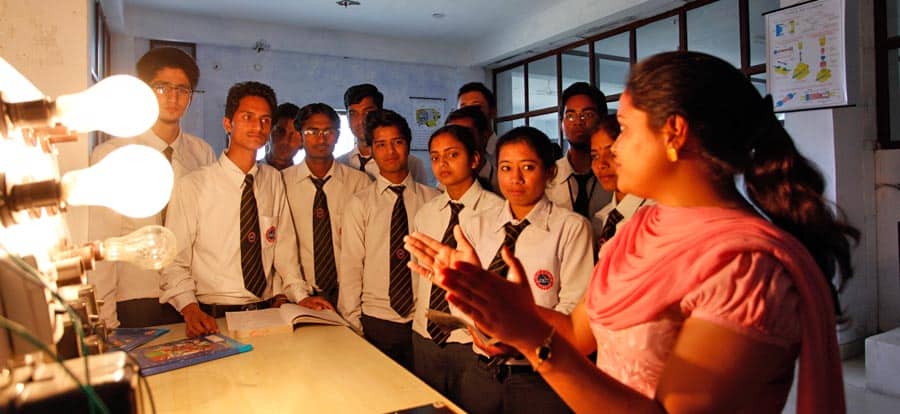 ABOUT DEPARTMENT
The department is equipped with the latest experimental and computational facilities for taking up R & D activities in various fields. The research interests of the faculty members encompass a wide gamut of sub-disciplines of Electrical Engineering. Collaboration with faculty members from other disciplines, both within and outside the institute, is encouraged.

The lab facilities and the infrastructure are regularly upgraded and are well supported by the institute and management. Throughout the four-year program, students are encouraged to use their creativity and problem solving skills to explore and think about the unique problems in the world of electrical and computer engineering.
Programs offered with Description
The following programs are offered under the Under Graduate Program
| PROGRAMMES | DURATION |
| --- | --- |
| B. Tech. Electrical Engineering -, SEMESTER –III | 4 years |
Electrical engineering is a field of engineering that generally deals with the study and application of electricity, electronics and electromagnetism.The field first became an identifiable occupation in the late nineteenth century after commercialization of the electric telegraph and electrical power supply. It now covers a range of sub-topics including power, electronics, control systems, signal processing and telecommunications.
This course includes in particular network analysis and synthesis ,electrical measurement and instruments, solid state devices, power electronics, generators, motors, both AC and DC and High voltage generation and transmission to name a few.Presently the department is running the following courses under the affiliation with UK Technical University.

Under Graduate: B.Tech course in Electrical Engg. - 60 intake[/icetab][icetab title="SYLLABUS"]Electrical Engineers are working today in all areas of our modern information society. Buzzwords such as the internet and the cellular phone, communication and navigation satellites, high performance computers, power plants and high voltage networks, renewable energy and robotics - in all these fields research, development and production innovation was strongly influenced by electrical engineers in responsible positions. Employment perspectives are excellent as not only in INDIA, but also in Western Europe and the United States of America, where there is a shortage of qualified electrical engineers. From the production of power in power plants and the distribution in high power networks to the customer with his PC in his house hold or office, it is electrical engineering that influences our daily life in mostly pleasant ways.
B. Tech. Electrical Engineering -, SEMESTER –III 4 YEAR
The laboratories boast of state of the art Equipments & contemporary software tools like MATLAB, PSPICE, PSCAD/EMTDC, PSIM etc. The students are exposed to the best experimental practices under expert guidance from faculty members & laboratory staff.


Basic Electrical Engineering Lab
Electrical Machines Lab
Measurement & Instrumentation Lab
Networks Lab
Control System Lab
Power System Lab
Power Electronics Lab
Electric Drives Lab
Computer & simulation Lab


The department is backed up by 6 highly efficient Laboratories encompassing the following practical domains:-


Electrical Measurements Lab.
Electrical Machines Lab.
Control Systems Lab.
Design & Simulation Lab.
Power Systems Lab.
Electrical Circuits Lab.
Power Electronic & Drives Lab.
Microprocessors Lab.
High Voltage Lab.
MAJOR LABORATORY EQUIPMENTS
100 KV Power Frequency HV Transformer
150KV Impulse Generator
Reactive Power Compensation Unit
dSpace system with MATLAB,SIMULINK & RTW
3-Zone Distance Relay and over current relay
3-Phase Secondary Injection kit
SCADA system for NITW distribution system
Multi-parameter meter with LAN & DSA Software
GPS Unit and ARCPAD Software
TMS 2407 and TMS 2812 starter kits
TMS 2812 evaluation modules
Transmission line system with Reactive compensation
Fuzzy logic and Servo Trainer kits
Artificial Transmission Line Units
IGBT Converter Modules
DSP Controlled Drives
SCR Bridge converter
DC Power Supplies
High Power DC power supplies
MAJOR SOFTWARE
PROTEUS VSM
NISA-EMAG
SPARD MP
PSCAS/EMTDC
CASPOC
EDSA
PSIM
PSPICE
POWER WORLD
MATLAB & SIMULINK
FACULTY
| Sn. | Name | Qualification | Experience | Designation |
| --- | --- | --- | --- | --- |
| 1 | Mr. Lakhan Singh | M.Tech,B.Tech | 5 YRS. | Associate Professor & HOD |
| 2 | Mr. Rajendra Kumar | M.Tech, B.Tech | 5 YR. | Asst. Professor |
| 3 | Mr. Ankur Kumar | M.Tech, B.Tech | 2 YR. | Asst. Professor |
| 4 | Mr. Rishabh Kumar | M.Tech, B.Tech | 2 YRS. | Asst. Professor |
| 5 | Mr. Vrij Mohan Vidhyarthi | M.Tech(p), B.Tech | 1 YR. | Asst. Professor |
| 6 | Ms. Nisha Negi | M.Tech , B.Tech | 1 YR | Asst. Professor |
| 7 | Ms. Smarika Shah | M.Tech , B.Tech | 2 YR. | Asst. Professor |
| 8 | Mr. Shoaib Ahmad | M.Tech , B.Tech | 2 YR. | Asst. Professor |
| 9 | Mr. Prateek Singhal | M.Tech , B.Tech | 2 YR. | Asst. Professor |
| 10 | MS. Shrutika Kansal | M.Tech , B.Tech | 2 YR. | Asst. Professor |
| 11 | Ms. Mala Sharma | M.Tech(p) , B.Tech | 1 YR | Asst. Professor |
| 12 | Sandeep Rawat | M.Tech(p) , B.Tech | 1 YR | Asst. Professor |
| 13 | Mohit Bangwal | B.Tech | 1 YR | Asst. Professor |